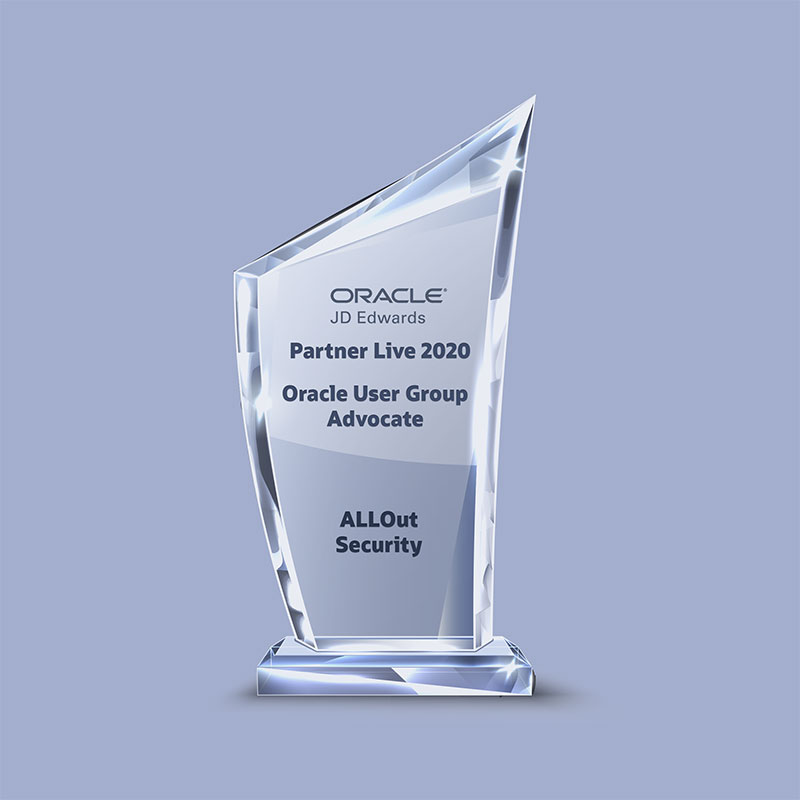 Discover ALLOut Security
---
No. 1
Award Winning Oracle Gold Partner
(Customer Centricity)
---
Community
Collaboration
---
We live for the JDE community & we love to be close to our customers, collaborate with our partners & support the global network of JD Edwards professionals.
---
Knowledge
Transfer
---
In a small community which is JD Edwards, we are evangelist in security and compliance, extending beyond our toolset to deliver world-class e-learning & best-practice.
---
Truthfully
Sincere
---
We strive to build every relationship on the foundation of trust! Our goal is never to oversell but to solve our customers problems and make things simpler.
---
Continuous
Innovation
---
We work closely with Oracle and our partners to continue to analyze new requirements for the JD Edwards market. Adding value is our key purpose.
How it all began
---
ALLOut Security is the brand name for the Gate Software group of companies. We are a software house – rather than a consultancy - committed to delivering value-generating software-based solutions.
2004

ALLOut Established

The company was established in 2004 to meet the specific compliance requirements of the Global J.D. Edwards user community. The founding partners have more experience in JD Edwards security than anyone else, dating all the way back to the 1980´s.

2004

ALLOut World

The first World A7.3 ALLOut solution was released to address the issues being faced by JD Edwards users as a result of the Sarbanes Oxley legislation. This was originally called SOXLock and later went on to include StarGroups & Profile+ - the complete ALLOut for World product range.

2006

ALLOut EnterpriseOne

ALLOut went on to develop further products to support E1 users with their security, audit & compliance needs. From the early days of a simple SOX reporting solution, the products grew to incorporate functionality for Security Officers, CNC, System Administrators, Application Leads, Auditors, Financial Directors and many more.

2009

ALLOut Growth

ALLOut's continuous innovation resulted in a comprehensive range of security solutions that go beyond compliance and security reporting. It addresses all the issues associated with implementing and managing security, user provisioning, menu design / maintenance, change control and J.D. Edwards upgrade and audit.

2021

ALLOut Reborn

ALLOut has grown to be a solution loved by over 500 customers globally. The company's commitment to deliver true value to the JD Edwards community is reflected in its new digital experiences for customers. From the development of a new e-learning platform called ALLOut Academy, to the upgraded Customer Portal with additional functionality to support users, customer-centricity is at the heart of what they do!
What our team has to say about us?